Our Ear, Nose, Throat (ENT) services in Punggol, Singapore include earwax removal, removal of objects or foreign body from the ear, nose, throat, nasal endoscopy service, hearing loss and giddiness services.
---
Earwax removal
Not all earwax needs to be removed as mentioned in our other article, but when it causes pain, discomfort or other problems, it needs removal.
How do the doctors remove it?
We can wash it out using a ear syringe: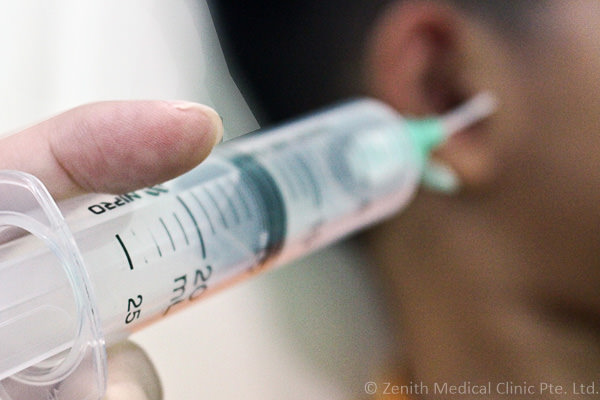 Ear syringing is performed using a small syringe and warm water. Since the tip of the syringe is fitted with a soft plastic tip, it might feel ticklish to your ears sometimes when it accidentally touches your ear, but don't worry, it shouldn't hurt.
Who should NOT undergo this procedure?
Patients having an active ear infection or discharge
Patients who have a hole in the eardrum
Recent surgery in the ears
Known to have narrow ear canals. Or told by doctors to have ear canal "stenosis"
People who have a normal ear canal with no earwax or issues
What to do if I cannot undergo ear syringing?
You might want to try ear suction or the doctor would advise for ear microsuction.
What to expect during the procedure?
You will likely feel a warm sensation and pressure in the ears. Some people may experience an urge to cough, have a very intense itch, or even feel a strange sensation in their stomachs (the ear nerves are connected to many places via the Vagus pathways). However, it should never be painful. Please tell the doctor if it is.
In addition, if the water is not at the right temperature, you can sometimes feel giddiness.
How to prepare for the procedure?
Apply 5 drops of olive oil into the ear twice a day, followed by a tragal massage <vid>. A tragal massage is done by vigorously pushing the little soft bone in front of the opening of the ear.
Apply the drops for at least a week before seeing us, as it would make the process more likely to be successful and also faster.
What if it fails?
This may happen sometimes to about 20% of the patients for various reasons. We can try ear microsuction (read on), apply the olive oil again for another week and try again, or request for a referral to see an ENT specialist.
---
Ear suction
Sometimes, we use ear suction for certain types of earwax (soft, squishy) and also for the removal of objects.
What to expect during the procedure?
You will hear a loud sucking sound. If you cannot stand this sound, you might want to consider ear syringing instead. It should not be painful, so please tell us if it is.
How to prepare for the procedure?
Again like above, olive oil will save you and me a lot of precious time.
What if it fails?
If it happens, we might need to "stage the procedure"- take out the wax part by part and repeat the procedure another week. You might need to see an ENT specialist if all else fails.
---
Foreign bodies
Children love to put objects in their ears, nose and throat out of curiosity or for fun, unaware of how dangerous it can be. At Zenith, we have specialised equipment like the above and crocodile forceps to help remove these objects.
Using these tools, we have been successful in removing objects that were placed in children's ears and this is our collection so far.
| Zenith Foreign Body Collection | |
| --- | --- |
| From the Nose | |
| How did this blue thing end up there? | ? A white toy |
| From the Ears | |
| It's not the coin, it's the one next to it! | Some hard earwax. |
| See what happens when we try to "dig" with cotton buds? | More hard earwax. |
| Not sure how this ended up there. | |
| This child had a haircut before coming to see us. | |
| A bead | |
| The head of a cotton bud left inside the ear for *gasp* God knows how long... | |
| From the Throat | |
| | |
Feel free to bring your child over to add to our collection.
---
Hearing problems
We can also see you for any problems related to the ear, e.g. ringing in the ears (tinnitus), ear pain, discharge and giddiness. If you need a hearing test, we generally would refer you for a free hearing test here. (We are not affiliated to them.)
Some problems related to the ear, nose and throat require further evaluation with a scope <pic>.
Although this is normally done at ENT specialist clinics, we can also do the same for you, except that we will need to refer you if you require surgery.
Common symptoms that are evaluated:
Ear

Ear pain
Ringing in the ears
Ear wax
Blocked feeling in the ears
Water/pus coming out from the ear
Giddiness
Unusual objects placed inside the ear

Nose

Blocked nose
Running nose, sneezing
Pain
Nosebleed
Nose cancer, nasopharyngeal cancer/carcinoma
Unusual objects placed inside the nose

Throat

Feeling of phlegm in the throat
Fish bone, or other things unusual objects stuck in the throat
Frequent sore throat
Hoarse voice
Voice fatigue or tiredness
---
Charges
A consultation fee of $17-35 will be charged, unless you come with an order form or referral form from our partner clinics.
Procedure
Cost ($)
1
Ear Syringing or Microsuction (1 ear) (<10minutes)
25
2
Ear Syringing or Microsuction (both ears) (<10 minutes)
40
3
Ear Syringing or Suction: Complicated (>10 minutes)
Depends
4
Ear Packing or Instrumentation
Depends
5
Ear Piercing (both sides)
(Please bring your own GOLD jewelry)
60
6
Flexible Nasoendoscopy/Scope
200
---
Book an appointment?
Please download the MaNaDr app if you wish to make your own appointment.
QR code or
link for android
:
QR code or link for Iphone:

Guide on how to download and use MaNaDr.
Having trouble?
Call 64433678 or leave your details here.